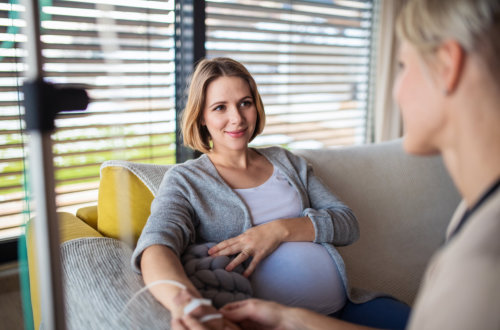 Who We Are
IV Solutions RX is an independent specialty infusion pharmacy that provides high-quality products and services to its clients across 49 states and the District of Columbia.
For patients, we are experts in treating your complex chronic disease in coordination with your physician. We will treat you with the respect and dignity you deserve with a treatment plan that is individually designed for you. We are available to answer your questions and concerns about the challenges you face be they clinical or financial.
For physicians, our clinical expertise and systems make working with IV Solutions RX easy. We streamline the referral process so that physicians can spend more time attending to other aspects of their busy physician practices. We make follow up easy with our regular reporting, physician contact system, and clinical excellence.
For payors, we are committed to transparency. We support your clinical requirements for patient care and your formulary. We serve your members with patient centric approach using data analytics. Our commitment is to help your members manage their chronic disease to optimize outcomes.
Patients, physicians, and payors alike all benefit from the proven experience of IV Solutions RX. We were founded by healthcare industry veterans with over 70 years of combined experience in direct patient care. Your IV Solutions RX care team has demonstrated their exemplary patient care skills at some of the nation's largest hospitals and specialty home infusion companies. They've also worked at smaller, regionally focused companies. They've worked across all aspects of specialty home infusion as pharmacists, nurses, department managers, senior managers, general managers, and company presidents. Your patient care team brings the benefits of that broad experience to help  work together with patients, physicians and payors as we implement a personalized care plan designed to achieve the best possible outcomes.
You can have confidence in our specialty home infusion services knowing that IV Solutions RX is fully accredited by two of the nation's premier accreditation agencies, URAC and ACHC. We've met their rigorous standards resulting in our URAC accreditation covering both Specialty Pharmacy and Mail Service Pharmacy while our ACHC accreditation is for both Specialty Pharmacy and Home Infusion Therapy.
We are the ideal specialty pharmacy choice for our client's complex home infusion care needs. Send us a message.
Mission Statement
Exceed the healthcare expectations and needs of our clients by providing high-quality, cost-effective care producing positive clinical and financial outcomes.
Vision Statement
To be the national benchmark technology-driven specialty infusion pharmacy that is known for its compassionate care, quality outcomes and patient-centric model.